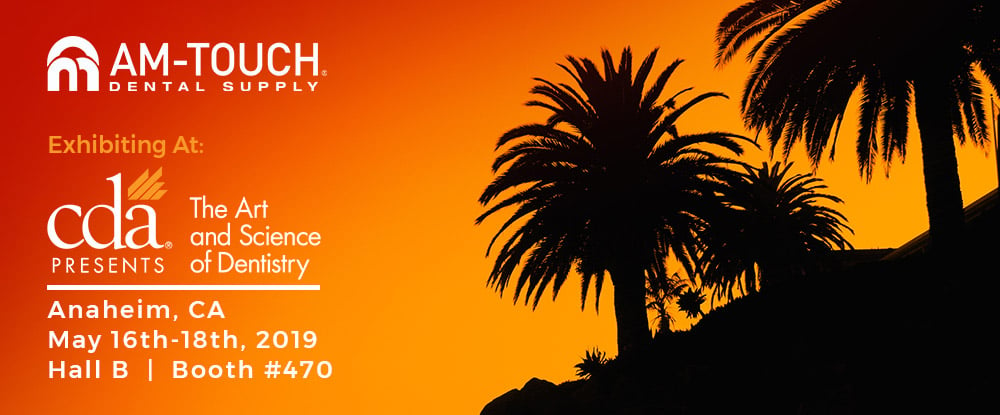 CDA 2019 Anaheim
Every May, we see some of the best deals the dental supply world has to offer surrounding the California Dental Association's "CDA Presents" show in Anaheim.
Win $100 for taking a Selfie @ our Booth!!
Want to walk out of CDA 2019 with an AMEX Gift Card? Sure you do! Here's how!
Come to our booth - #470 - and meet Ryan who is running our Selfie Station. You and your squad need to do ALL of the following to qualify:
Take a photo at our station
Have it emailed to you (happens immediately at the booth)
Post it to Instagram
Tag @amtouchdental in the post
Use BOTH of the following Hashtags: #cdaana and #amtouchdental
At the end of the convention (4:30 pm Saturday - you do NOT need to present to win), the winners of the following 3 categories will walk away with a $100 AMEX Gift Card!
Funniest Photo
Sassiest Photo
Most People In a Photo
Note: Contest is not endorsed or associated with the California Dental Association. Winners must be attendees at the show, not exhibitors. AMEX Gift Card not exchangeable for any other award. One award per contest group winner. Instagram is the only qualifying social media network valid for this contest. Rules subject to change without notice.
FILL OUT FORM TO ACCESS CDA PROMOTIONS
Some of these promotions only last a few days, so don't miss out.
If you ARE attending CDA:
Download this guide and be ready when you hit the show floor. It will save you a ton of time!
Come see us at BOOTH #470 to place your order.
Come visit our Photo Booth and get some hilarious (work appropriate, please ;-) photos of your time at CDA. We fully encourage embarrassing each other, however.
Grab some fun promotional items while you're at the booth.
If you're NOT attending:
That's okay. We'll miss seeing your smiling face, but you can still take advantage of these promotions. Download the guide and call 800.350.4568 with any questions or to place an order.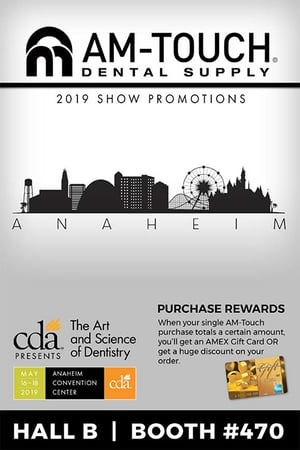 We offer:
Categories such as: Office Essentials, Anesthetics, Bonding, Burs & Diamonds, Cements, Endo, Evacuation, Impression, Infection Control, Small Equipment & More!
From Manufacturers such as: Dentsply Sirona, 3M, Kerr, GC, Ivoclar Vivadent, Coltene, Hu-Friedy, Young, Kuraray, Septodont, DMG and More!
Don't miss out! Download our Exclusive guide and call now... 800.350.4568.